California Current Integrated Ecosystem Assessment
The California Current Integrated Ecosystem Assessment (CCIEA) is an interdisciplinary research effort led by NOAA scientists along the U.S. West Coast. Our goal is to provide science support for ecosystem-based management of the California Current—a complex ecosystem in which natural and human systems are inextricably linked. 
The California Current marine ecosystem is a highly productive coastal ecosystem in the northeastern Pacific Ocean. Seasonal upwelling of cold, nutrient-rich water fuels populations of krill, squid, sardines, and other species that are fed upon by larger fishes, seabirds, and marine mammals. The ecosystem supports important fisheries and other activities and provides services for the tens of millions of people living along the West Coast.
---
News and Highlights
A new CCIEA paper demonstrates the benefits of using a diversified approach to evaluating ecosystem status during data-poor situations.
A newly published study finds fewer win-win solutions for whale conservation and the California Dungeness crab fishery during climate extremes.
Recently published research documents the importance of vessel mobility and access to other fisheries during a climate shock.
The California Current Ecosystem Status Report provides the Pacific Fishery Management Council and the public with a snapshot of the health of the California Current Ecosystem.
This technical memo features a suite of ecosystem indicators and analyses, co-developed by the CCIEA team and PFMC, representing our best understanding of environmental, ecological, and socioeconomic conditions roughly through the end of 2020.
---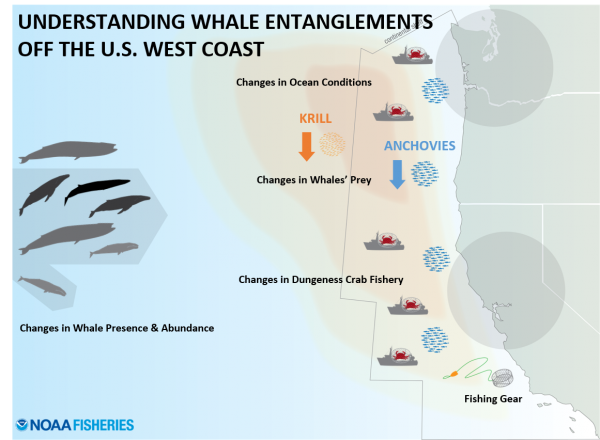 The number of large whales entangled in fishing gear off the U.S. West Coast increased in recent years. Now, NOAA Fisheries scientists are beginning to understand the ocean conditions may lead to an increased risk of whale entanglements. Read about the new data dashboard that shares that information with managers and fishermen to help them make decisions that may reduce the whales' risk of becoming entangled in fishing gear.
View featured project