Indicators increase our understanding of the California Current and promote sustainable ecosystem management
The CCIEA program presents an annual Ecosystem Status Report to partners like the Pacific Fishery Management Council (PFMC). The reports summarize the status and trends of dozens of ecosystem indicators and provide context for decision making, as called for by the PFMC Fishery Ecosystem Plan. We are partnering with the PFMC to improve the report and align it to management and societal needs. Ecosystem status reports are also key milestones for implementing NOAA's Ecosystem-Based Fisheries Management Policy on the West Coast. 
Ecosystem indicators are measurements of physical, biological, economic and social conditions in a system. Effective indicator portfolios support ecosystem-based management by tracking whether the system is moving toward or away from desired states of human wellbeing and ecological integrity. Identifying and evaluating these indicators is a key step in the IEA Framework.
Indicator Dashboards with the Latest Available Data
While we will continue to produce annual ecosystem status reports at the request of the PFMC, we are also moving to develop web-based indicator portfolios, featuring data dashboards that update in real-time as new data come available. These dashboards can be tailored to specific needs and accessed any time, which will support greater flexibility in fishery management.
In the coming months, we will launch an indicator dashboard on this page that parallels the ecosystem status reports we deliver to the PFMC, but will be continuously updated throughout the year. A related example, created in partnership with the West Coast region, supports efforts to reduce whale entanglement in West Coast Fisheries.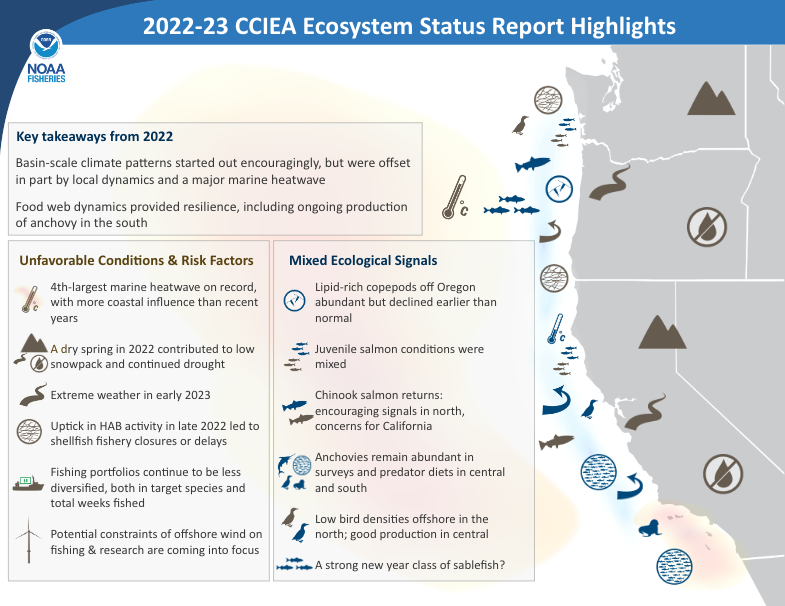 More Resources:
Previous Years' Infographics