IEA Approach Supports Science and Management needs for Sanctuaries
The NOAA Integrated Ecosystem Assessment program partners with NOAA's Office of National Marine Sanctuaries (ONMS) to support Ecosystem-Based Management using the Integrated Ecosystem Assessment (IEA) approach.
ONMS "serves as the trustee for a network of underwater parks encompassing more than 600,000 square miles of marine and Great Lakes waters".
Each step of the IEA approach can support ONMS needs including indicator development, ecosystem status assessment in Condition Reports, risk assessments, management scenarios evaluations and threshold identification. In addition the IEA approach can help to broaden management objectives across the entire ecosystem. Through this work, sanctuary managers will be better informed and able to compare management strategies.
Read the report "Place-Based Ecosystem Management: Adapting Integrated Ecosystem Assessment Processes for Developing Scientifically and Socially Relevant Indicator Portfolios" to learn how indicators were identified in case studies from seven different ecosystems, including case studies from Channel Islands and Florida Keys sanctuaries. These indicator development strategies are being applied at additional sanctuaries to facilitate identification and selection of indicators—measures of key components of the ecosystem for inclusion and assessment in future condition reports.
Tracking and assessing the status of key indicators also requires compiling, managing, analyzing, and communicating large amounts of data. In collaboration with ONMS and NOAA's Integrated Ocean Observing System (IOOS) Program, including the Marine Biodiversity Observation Network (MBON), we are developing ecosystem tracking tools to facilitate the updating of sanctuary status and trend information. Available through Sanctuary Watch, these web-based, interactive tools bring ecosystem information to the fingertips of resource managers, scientists, educators, and the public. Web-based indicator portfolios and data dashboards are similarly being developed for presenting annual Ecosystem Status Reports with the first example available for the California Current Ecosystem Status Report.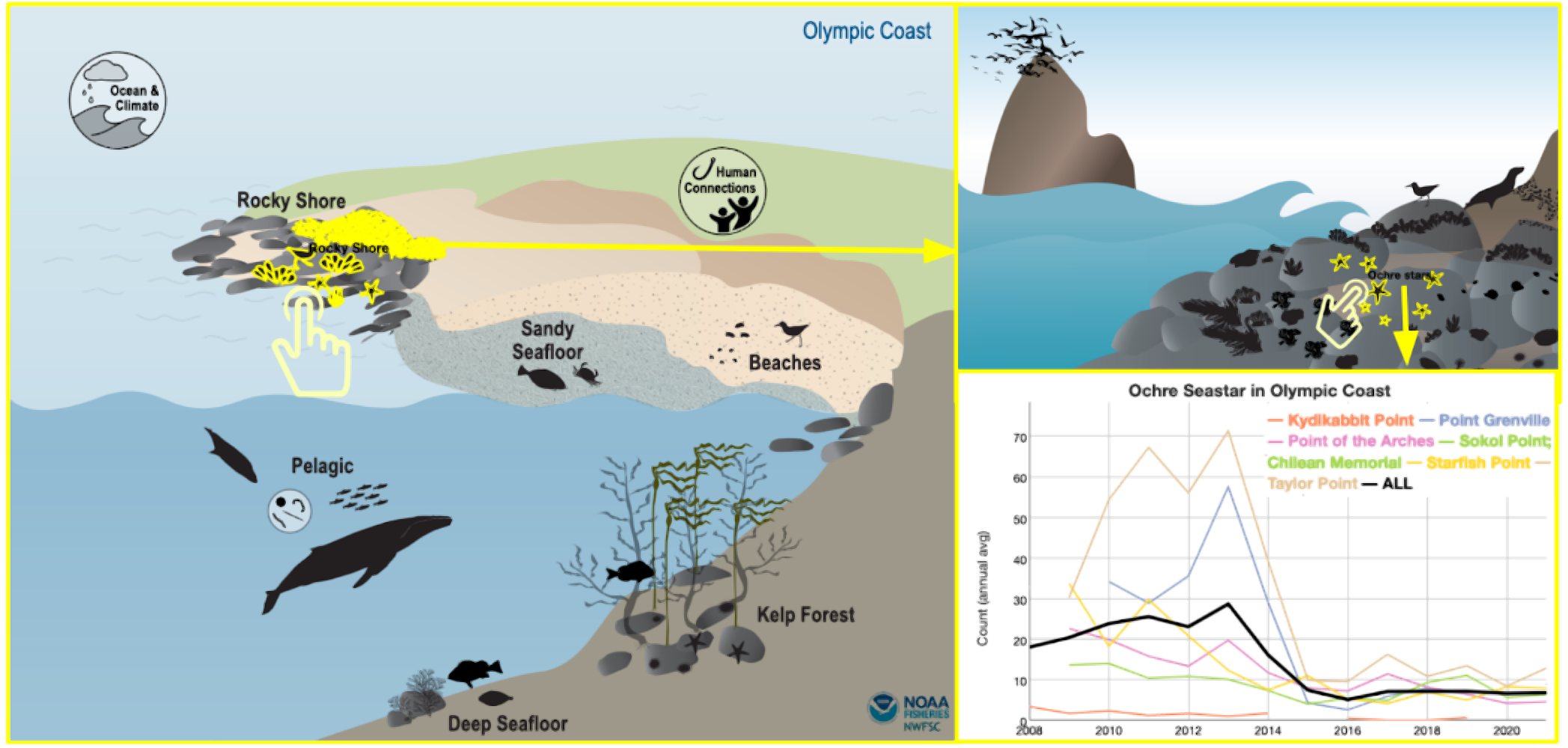 Partnerships between IEA regions and National Marine Sanctuaries 
California Current IEA and West Coast Sanctuaries Project: Since 2013, California Current Integrated Ecosystem Assessment (CCIEA) scientists from across west coast National Marine Sanctuaries and NOAA Fisheries Science Centers have been collaborating to apply NOAA's IEA framework in novel ways to support marine resource management. Read more on the CCIEA/West Coast Sanctuaries partnership here.
Gulf of Mexico IEA and National Marine Sanctuaries Project: IEA scientists have been partnering with sanctuaries in the region since 2018 to apply and downscale the IEA approach to Florida Keys, Flower Garden Banks and Gray's Reef National Marine Sanctuaries in an effort to meet collaborative science needs. Read more about the GoMIEA/Southeast Sanctuaries work here.
More Resources:
Regional IEA/Sanctuaries Projects:
IEA Supported Condition Reports: