IEA Approach Supports Science and Management needs for Sanctuaries
The NOAA Integrated Ecosystem Assessment program partners with NOAA's Office of National Marine Sanctuaries (ONMS) to support Ecosystem-Based Management using the Integrated Ecosystem Assessment (IEA) approach.
ONMS "serves as the trustee for a network of underwater parks encompassing more than 600,000 square miles of marine and Great Lakes waters".
Each step of the IEA approach can support many of Sanctuaries needs such as updates to Condition Reports, risk assessments, evaluating management scenarios, and quantifying thresholds. In addition the IEA approach can help to broaden management objectives across the entire ecosystem. Through this work, sanctuary managers will be better informed and able to compare management strategies.
Read the report "DEVELOPING SCIENCE-BASED INDICATOR PORTFOLIOS FOR NATIONAL MARINE SANCTUARY CONDITION REPORTS" to learn details about how the IEA program started applying IEA methods to develop conceptual models and indicators for West Coast Sanctuary condition reports.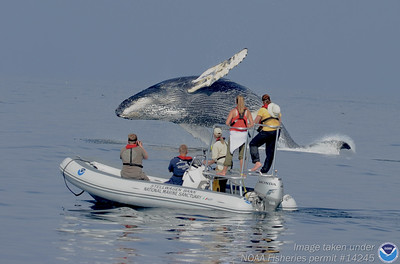 California Current IEA and West Coast National Marine Sanctuaries:
Monterey Bay National Marine Sanctuary: California Current IEA (CCIEA) team partnered with Monterey Bay National Marine Sanctuary (MBNMS) to update their Condition Reports. This started with aggregating potential indicators first into 8 major habitats within MBNMS. The indicators were drawn from the indicator portfolio developed by the CCIEA, local researchers, long-term monitoring datasets, and other West Coast ecosystem status reports. Once the indicator portfolios had been selected, they were used to create conceptual models (e.g. Figure 1).
Channel Islands National Marine Sanctuary: California Current IEA (CCIEA) team partnered with Channel Islands National Marine Sanctuary (CINMS) to release the CINMS 2016 Condition Report. CCIEA science team contributed to the report by supporting indicator development, data analysis, status and trend assessments, and review. The 2016 report is greatly improved from the 2009 report and much of the improvement was due to this partnership.
Olympic Coast National Marine Sanctuary: IEA scientists continue to support the work of ONMS partners on the west coast, recently participating in Olympic Coast National Marine Sanctuary's planning meetings for the upcoming Condition Report (scheduled for completion in 2019-20). They will jointly build on previous CCIEA indicator evaluation efforts, share in gathering high-priority time series data, and work to downscale west coast survey data to OCNMS boundaries.
A number of IEA scientists recently had the opportunity to provide science information as well as policy support for the development of the updated condition report for Olympic Coast National Marine Sanctuary in 2020. Kelly Andrews, Greg Williams, Elliot Hazen and Chris Harvey were invited as experts and provided science information and data and figures to analyze status and trends, and Kelly Montenero and Jenn Brown worked with NCCOS and ONMS partners to support indicator development and facilitate workshops with experts. All participated in two workshops- one to finalize the indicator list per condition report quest and habitat in May 2019, and one to score the status and trends of each selected indicator in January 2020. The final draft of the condition report is now nearing completion. The Office of National Marine Sanctuary condition reports provide a summary of resources in each sanctuary, pressures on those resources, the current condition and trends, and management responses to the pressures that threaten the integrity of the marine environment. Specifically, the reports include information on the status and trends of water quality, habitat, living resources, maritime heritage and the human activities that affect them, as well as ecosystem services. These reports in turn provide a basis for further decisions such as sanctuary management plan reviews, zoning, boundary changes and regulations, and serve as a tool for education and as a reporting mechanism.
Read more on the CCIEA/West Coast Sanctuaries partnership here.
Gulf of Mexico IEA and National Marine Sanctuary:
Florida Keys National Marine SanctuaryThe Gulf of Mexico IEA team is partnering with Florida Keys National Marine Sanctuary (FKNMS) to explore how IEA products and process can be downscaled to FKNMS to help with a number of management needs of the site. This started with discussing management needs and identifying indicators that can be used to better understand the status of the ecosystem.
Flower Garden Banks National Marine SanctuaryNOAA's IEA program has expanded an exciting partnership with the Office of National Marine Sanctuaries (ONMS) to support science needs of sanctuaries. Kelly Montenero, an IEA scientist who has previously collaborated with various sanctuaries in the system, is now supporting the condition report update for Flower Garden Banks National Marine Sanctuary. "I'm excited for this opportunity to work with the knowledgeable researchers of FGBNMS, learn more about this unique and precious location, and apply the IEA approach to provide best science to resource managers", she says. On June 1st and 2nd, virtual workshops were held to garner expert opinion, advice and feedback for the selection of proposed indicators of the health and condition of the Flower Garden Banks National Marine Sanctuary. Next steps for this report update process are to collect information on status and trends, reconvene with experts to score status and trends for each section and indicator, and complete the writing of the report, slated to be released in winter of 2022.
The ONMS manages and coordinates federal activities directed towards the conservation of sanctuary resources as well as engagement with local communities in and around national marine sanctuaries. Sanctuary condition reports, management plan reviews, regulatory and policy development, as well as partnership development are some of the tools and tasks that ONMS undertakes in each sanctuary. These functional areas represent specific opportunities to leverage the capabilities, expertise, and products from NOAA's Integrated Ecosystem Assessment Program, which can support both ONMS science and management needs and priorities and meet the mission of the IEA program to use the Integrated Ecosystem Assessment framework to provide actionable scientific information to inform resource management decisions. Specifically, indicator and data development, information processing and management, model development, and delivering effective products are critical areas of overlap for the strengths and needs of both the IEA Program and ONMS. Enhanced coordination and collaboration can further the success and impact of both programs and the greater NOAA mission.
Northeast IEA and Stellwagen Bank National Marine Sanctuary:
Northeast IEA team partnered with Stellwagen Bank National Marine Sanctuary (SBNMS) to provide IEA data and products to support development of quantitative metrics for the SBNMS Condition Report. The Condition Report posed questions related primarily to water quality, habitat quality, and living resources, followed by identification of human activities that influence condition.
Read more on the Northeast IEA / SBNMS partnership here.
Stellwagen Bank National Marine Sanctuary 2020 Condition Report: Findings of Status and Trends for 2007 - 2018.
Coming soon:
NOAA IEA and National Marine Sanctuaries are working in partnership with the US Integrated Ocean Observing System program (IOOS) and the US Marine Biodiversity Observing Network (MBON) to develop dynamic infographics building from the static habitat conceptual models, what we affectionately call "webenizing" the conceptual models. It is anticipated that this work will provide the basis from which to extend this capability to conceptual models of the socio-ecological systems developed in other NOAA IEA regions.