Protection of coral reefs against climate change
Human and coral reef communities in Hawai'i have always been connected. Actions taken to reduce coral reef vulnerability are in the spirit of maintaining the strength of these connections as the climate changes. Management actions that modify human activities on the west coast of the island of Hawai'i (West Hawai'i) will increase coral reefs ability to resist and recover from climate change and other disturbances. Targeting and tailoring management actions on areas that are most vulnerable to climate change can give reefs in West Hawai'i the best chance of coping with climate change.
Coral reefs near Puako, Keāhole Point, and Kailua-Kona are relatively more vulnerable to climate change while coral reefs near Kīholo, Kealakekua Bay, Hōnaunau, and Miloli'i, are relatively less vulnerable to climate change.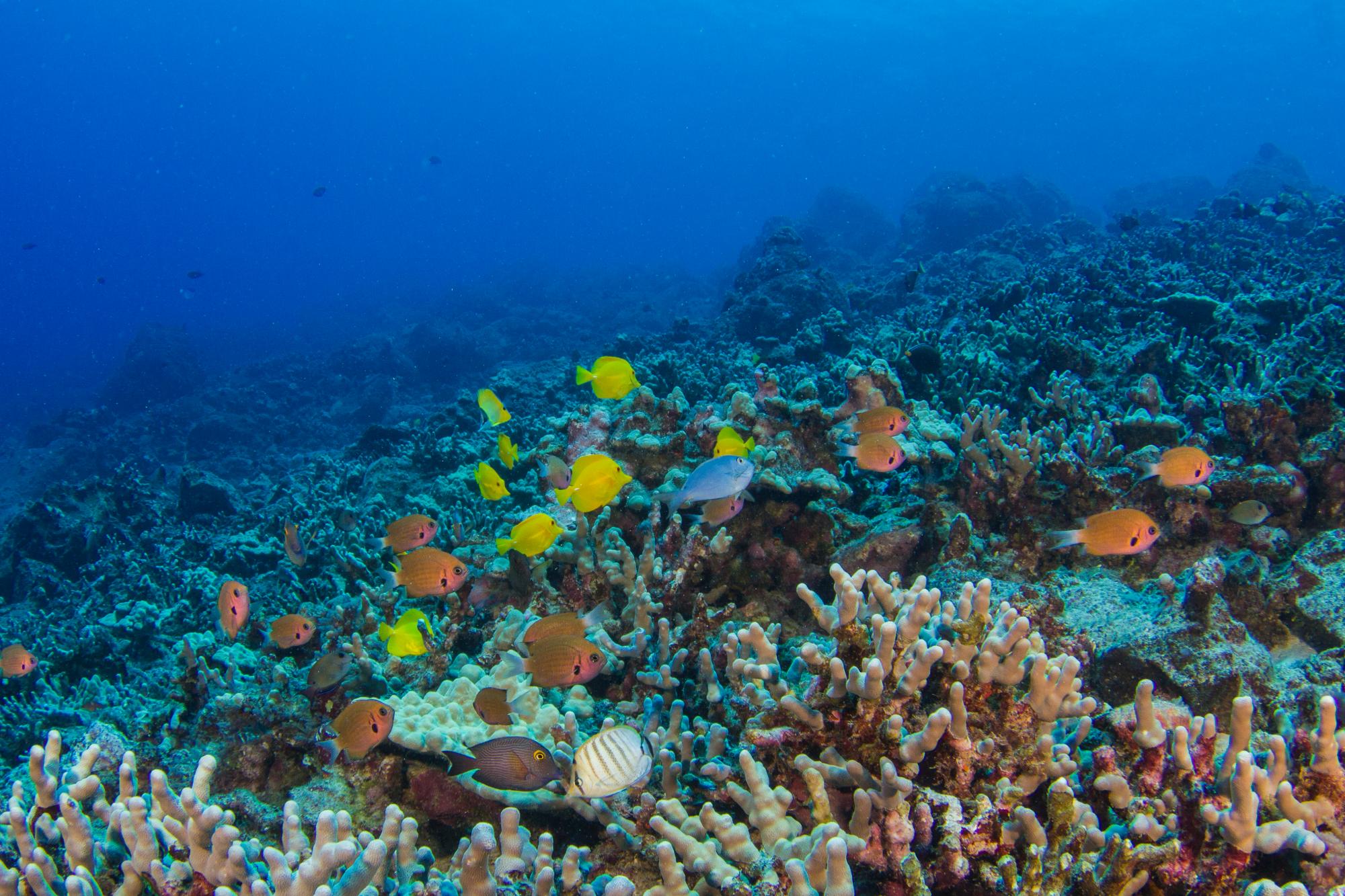 Understanding corals vulnerability to climate change
In collaboration with our partners, the West Hawai'i Integrated Ecosystem Assessment (IEA) team is assessing the vulnerability of key ecosystem components, including corals, reef fish, and anchialine pools, to the threat of climate change and other human activities along the west coast of Hawai'i Island. This vulnerability assessment involved communities, built understanding of human-environment interactions, and will help evaluate management scenarios that aim to increase ecosystem resilience.
Understanding vulnerability to climate change provides insight into which parts of social-ecological systems are most likely to change, what is driving this potential change, and how conservation and management actions can minimize impacts and maximize resilience. Assessing the vulnerability of species, ecosystems and local communities to climate change is a critical step to identify effective adaptations and prioritize management that enhances resilience.
Assessing the vulnerability of corals to climate change in West Hawai'i involved combining exposure to climate change, resilience and human impacts information for the 70 sites surveyed in 2016. Scores for these three inputs were scaled, averaged, combined, then classified as low, medium-low, medium-high, and high relative vulnerability following this Guide.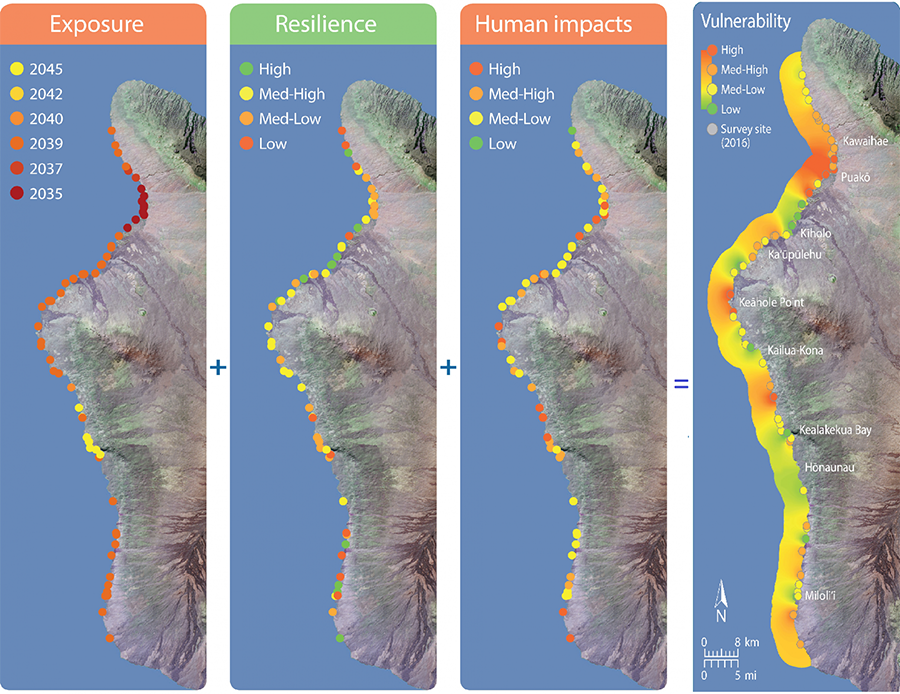 Climate change threatens coral reefs in West Hawai'i
Climate change is expected to increase threats to coral reef ecosystems in West Hawai'i. These threats include:
More severe storms
More acidic ocean, which makes it harder for corals to grow and keep pace with rising sea levels
Increased frequency and severity of coral bleaching events
Coral bleaching is a stress response caused by high ocean temperatures, which result in the breakdown of the symbiotic relationship between coral and the algae (zooxanthellae) that live in its tissues. The algae are expelled making the coral skeleton visible, giving it a pale or "bleached" appearance. Bleached corals may eventually die if ocean temperatures remain high and the symbiosis is not re-established.
The highest ocean temperatures ever recorded in West Hawai'i occurred late in 2015 and ~50% of corals in West Hawai'i died due to coral bleaching. Recent research (van Hooidonk et al; 2016) suggests that West Hawai'i will experience annual severe coral bleaching by 2045.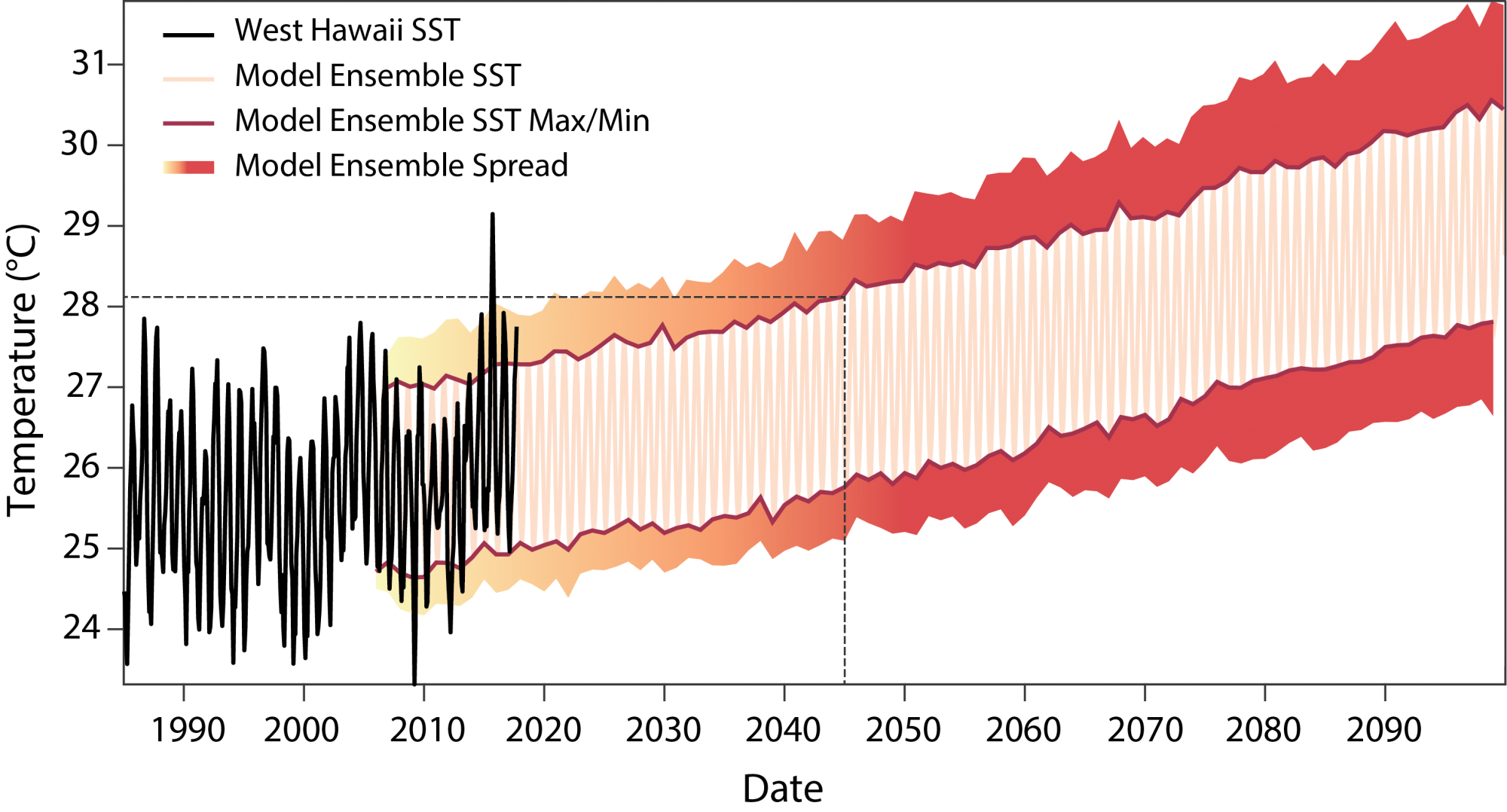 Vulnerability of coral reefs
Vulnerability is the degree to which an ecosystem system or species (coral reefs) is susceptible to, or unable to cope with, the adverse effects of climate change. Vulnerability depends on the frequency and severity of climate disturbances, for example, coral bleaching and sea level rise, and sensitivity. Sensitivity is a combination of coral reef resilience— their capacity to resist and recover from disturbance — and whether resilience is compromised by human impacts.
Coral reefs are naturally resilient. Reefs are frequently disturbed and regularly go through periods of recovery and regrowth in between disturbance events. Reefs with greater relative resilience may have a lower relative vulnerability, depending on the degree to which human activities stress reefs and reduce resilience.
Ecosystem indicators used to assess resilience across West Hawai'i:

Humans impact coral reefs in West Hawai'i through many activities including:
fishing for reef fish
introducing invasive species
grounding ships into the bottom
polluting sediment and nutrient
damaging forms of tourism