A Physics-to-Fisheries Management Strategy Evaluation for the California Current System
Future Seas is a project exploring potential impacts of climate change on the swordfish, albacore, and Pacific sardine fisheries in the California Current System. A suite of dynamical, statistical, and conceptual models is being applied to explore future scenarios in an "end-to-end" framework spanning physical changes to socio-economic consequences, and to evaluate uncertainty associated with individual elements of the modeling framework.
Objective
To evaluate the impacts of climate change on US-managed marine species and fishing communities California Current Ecosystem and identify climate-resilient management strategies.
Key elements of the project work plan for the California Current Ecosystem
Produce regional climate projections, using output from global climate models to force a high resolution regional ocean model (ROMS) coupled with a biogeochemical model.
Predict productivity and distribution changes for Pacific sardine, albacore, and swordfish, and the socio-economic impacts of these changes on fishing communities using climate projections in conjunction with ecological and socio-economic models.
Evaluate current catch advice and spatial management strategies for the Pacific sardine, albacore, and swordfish fisheries given the potential future impacts of climate variability and change.
Explore possible policy and management responses to climate change and resultant socioeconomic impacts on fishery participants and fishing communities using management scenarios.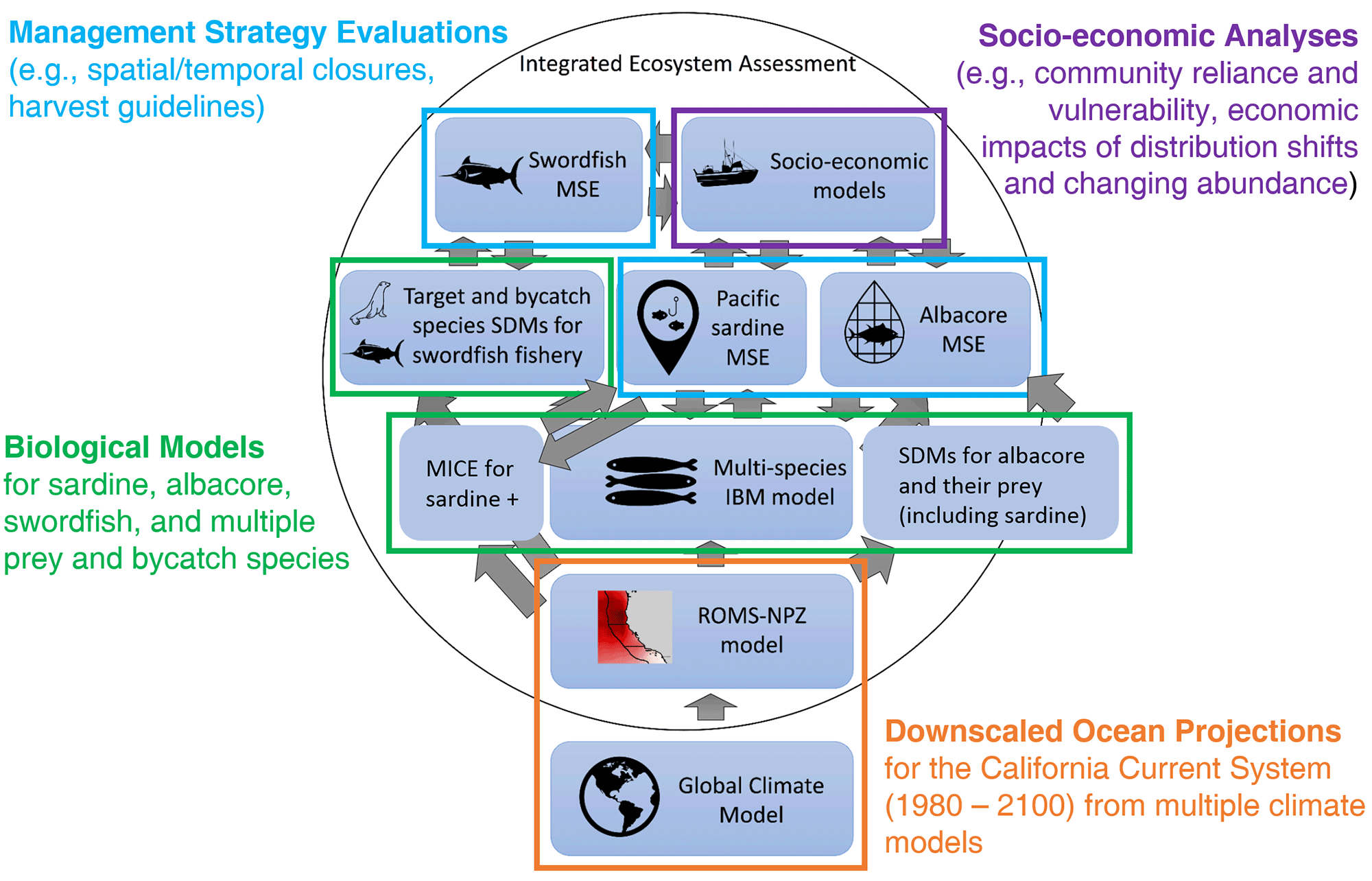 NOAA Fisheries
UC Santa Cruz
Rutgers University
University of South Carolina
Project Team
Mike Jacox (michael.jacox@noaa.gov), Steven Bograd, Elliott Hazen, Stephen Stohs (NOAA/SWFSC)
Barb Muhling, Desiree Tommasi, Mer Pozo Buil, James Smith, Jon Sweeney, Stephanie Brodie, Stefan Koenigstein, Heather Welch (NOAA/SWFSC and UC Santa Cruz)
Mike Alexander (NOAA/ESRL)
Enrique Curchitser (Rutgers U)
Christopher Edwards, Jerome Fiechter (UC Santa Cruz)
Amber Himes-Cornell (FAO, Italy)
Ryan Rykaczewski (U South Carolina)
Gwendal Le Fol (Independent consultant)
Tim Frawley (California Sea Grant)
Collaborators
Alan Haynie, Anne Hollowed, Kirstin Holsman (NOAA/AFSC)
Alistair Hobday (CSIRO, Australia)
Charlie Stock (NOAA/GFDL)
Stephanie Green, Natasha Hardy (U Alberta)
Larry Crowder (Stanford)
Funded by NOAA/CPO Coastal and Oceans Climate Applications program and the NOAA/NMFS Office of Science and Technology