Project Goal: With the aim of supporting Ecosystem-Based Management (EBM), the Florida Keys NOAA Integrated Ecosystem Assessment Program seeks to provide scientific knowledge of the Florida Keys National Marine Sanctuary integrated ecosystem, and transfer that knowledge to scientists, policy makers and resource managers.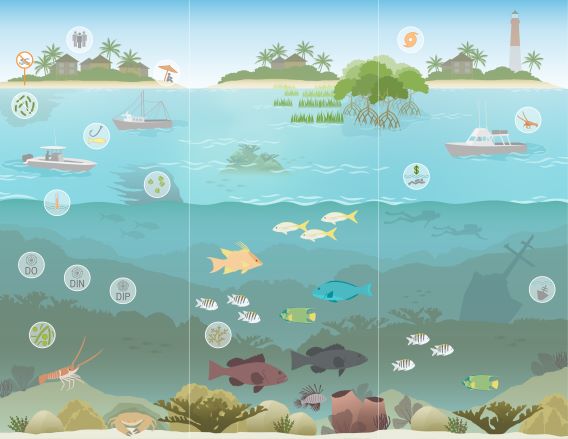 A suite of indicators was developed via expert workshop and qualitative and quantitative selection, to represent sections of the Sanctuary's ecological and socioeconomic condition, and are presented in this website and report.
This Ecosystem Status Report is compiled by NOAA's Florida Keys Integrated Ecosystem Assessment Program (IEA) team, in collaboration with academic partners, Sanctuary resource managers and scientists, non governmental organizations, and other government and state agencies. Below are a subset of the status and trends of key indicators from the Technical Report representing the condition report sections of Human Activities, Ecosystem Services, Habitat, Living Resources, Sanctuary Waters,and Maritime Archaeological Resources.