The second step of the NOAA Integrated Ecosystem Assessment (IEA) approach includes identifying, selecting, and when needed developing, — indicators— that capture the status and trends of key ecosystem components defined in the first step of the approach. These indicators should be representative of the status and trends of the individual components (including biophysical, human activity, and community vulnerability and human well-being indicators), but collectively reflect the condition and trajectory of the relevant socio-ecological system (SES) when assessing the ecosystem as a whole (step three of the approach). Managers and stakeholders are engaged in the selection of indicators which is key to selecting indicators that will successfully support management decisions.
The third step of the NOAA IEA approach includes assessing the status of the ecosystem using the previously selected indicators. This is typically captured in Ecosystem Status Reports (ESRs), which are often also tailored for specific management partners (e.g. Fishery Management Councils; National Marine Sanctuaries). 
Learn more about Ecosystem Status Reports and find each of the regional IEA's Ecosystem Status Reports here. 
Indicators must be:
scientifically rigorous
understandable to and resonate with stakeholders
sensitive to changes in the system
trusted in the decision process
Benefits of Selecting Indicators and Assessing the Ecosystem
These indicators support all subsequent steps of the IEA approach (e.g. risk assessment and management strategy evaluation) and allow for adaptive management by providing the metric to assess progress towards meeting management objectives. The benefit of ESRs is they link information across indicators to give an integrated overview of ecosystem status relevant to marine resource management decision making.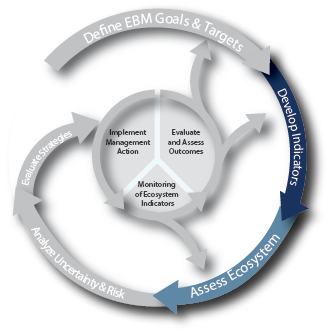 Regional Indicators: