Florida Keys National Marine Sanctuary
Gulf of Mexico IEA project
Project Goal: With the aim of supporting Ecosystem-Based Management (EBM), the Florida Keys NOAA Integrated Ecosystem Assessment Program seeks to provide scientific knowledge of the Florida Keys National Marine Sanctuary integrated ecosystem, and transfer that knowledge to scientists, policy makers and resource managers.
A suite of indicators was developed via expert workshop and qualitative and quantitative selection, to represent sections of the Sanctuary's ecological and socioeconomic condition, and are presented in this website and report.
This Ecosystem Status Report is compiled by NOAA's Florida Keys Integrated Ecosystem Assessment Program (IEA) team, in collaboration with academic partners, Sanctuary resource managers and scientists, non governmental organizations, and other government and state agencies. Below are a subset of the status and trends of key indicators from the Technical Report representing the condition report sections of Human Activities, Ecosystem Services, Habitat, Living Resources, Sanctuary Waters,and Maritime Archaeological Resources.
Click this image to access the tool: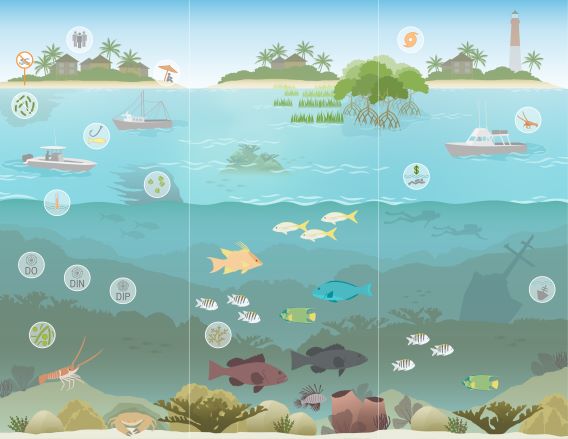 Project History:
In May of 2018, the Gulf of Mexico Integrated Ecosystem Assessment team met with Florida Keys National Marine Sanctuary staff to understand their science and management priorities and initiate the Integrated Ecosystem Assessment (IEA) process. Florida Keys National Marine Sanctuary (FKNMS) protects 2,900 square nautical miles encompassing the continental United States' only coral barrier reef, seagrass beds, mangrove islands, and more than 6,000 marine life species. Home to world-class diving and fishing, the highly-diverse and sensitive marine ecosystem drives the economy and local way of life.

Yet, FKNMS faces many challenging management issues such as coral disease, invasive species, marine debris and, increasingly, human use. FKNMS scientists and managers expressed a need to set management targets that better address these issues. This is where the IEA approach can help.

The IEA approach integrates all components of an ecosystem, including humans, into the decision-making process so that managers can determine what is more likely to achieve their desired goals.

After identifying management priorities, the next step in the IEA approach is to identify ecological and socioeconomic indicators that will inform FKNMS managers of the health of the sanctuary.

An Indicator Selection Workshop was held in September 2018 in Key Largo, Florida, to garner expert opinion, advice, and feedback for selection of proposed ecological and socioeconomic indicators on the health of Florida Keys National Marine Sanctuary. Policy, academic, and resource management experts who do work in the region provided input. This will result in a scored and prioritized list of indicators.

These indicators will be used to identify and quantify thresholds of acceptable ecosystem change resulting from pressures to the system. This information can help set management targets.

In the future, this information will allow NOAA scientists and managers in FKNMS to complete a full IEA, which includes risk assessments and evaluating management scenarios to inform the Sanctuary Condition Report and the next management plan review process.

The Office of National Marine Sanctuaries has been working with NOAA's IEA program to advance the science behind Sanctuary Condition Reports and management plans for several years. These efforts have shown how IEAs can effectively inform sanctuary processes, thus, result in better management and ecosystem outcomes.