West Hawai'i - Ecosystem Status Report
Last updated: 2019
West Hawai'i is home to a dynamic and productive marine ecosystem. Economic and socio-cultural value is provided to residents through numerous ecosystem services, such as commercial and non-commercial fishing, cultural and traditional practices, recreation, tourism, and coastal protection. However, ecological communities across West Hawai'i—particularly, coral reefs—have suffered recent and unprecedented declines. Marine ecosystem degradation can compromise underlying ecosystem functions and processes and undermine the numerous goods, services, and benefits upon which local communities depend.
The Ecosystem Status Report summarizes a suite of ecosystem indicators that track the status of the region's marine ecosystem. Ecosystem indicators include climate and oceanic drivers of ecosystem change, the states of ecological communities, and the activities and relationships between people and marine resources in West Hawai'i. Ecosystem indicators were identified through a collaborative and participatory process led by the West Hawai'i Integrated Ecosystem Assessment, a NOAA program dedicated to providing robust scientific information that meets current and future marine management needs in the region.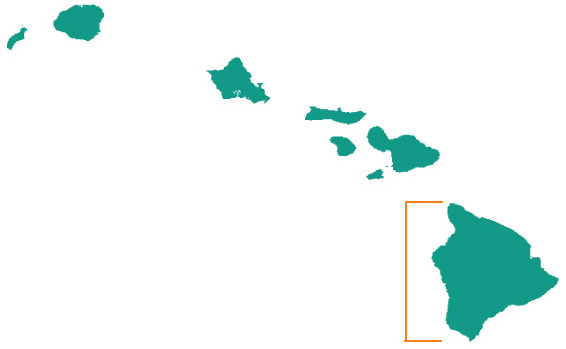 The

population

of Hawai'i Island has more than

tripled

since the 1970s. Over 25% of residents in West Hawai'i live one mile or less from the coast, and over 80% live within 5 miles.
The majority of

sewage disposal

in West Hawai'i occurs via cesspools, where waste receives no treatment prior to disposal. An estimated

680 million gallons

of wastewater was released into West Hawai'i's coastal environment in 2017.
Tourism

represents the single largest source of economic activity in West Hawai'i. Annual visitor arrivals recently

exceeded 1.3 million,

injecting over $2.1 billion into the local economy.
Herbivorous fishes

, which are important for coral reef resilience, constitute roughly 50% of total fish biomass in West Hawai'i and have

increased by 30%

in marine protected areas in recent years.
Ocean temperatures

in 2015 were the

warmest on record

in West Hawai'i. Approximately 50% of coral cover in the region was lost due to the warm temperature anomaly.
Total catch by the

largest commercial fishery

in West Hawai'i, the pelagics fishery (e.g., tunas and billfishes), was over six times the combined catch (by weight) of all other commercial fisheries representing 62.3% of the total revenue generated. Total catch has

declined by 46%

in recent years.
From 2003–2014, hard

coral

cover

declined

by nearly one third in the North and has remained relatively constant over the same time period in the South.
Rainfall

patterns are shifting towards

dryer conditions

across West Hawai'i. The total number of months exceeding the very dry threshold was 1.9–2.6 times higher during most recent 20-year time period (1997–2016) compared to the previous 20 years (1976–1996).
Reef-fish fishing

for recreational, subsistence, and cultural purposes (i.e., non-commercial) makes up the second largest fishery (by weight) in West Hawai'i. As with commercial fishing, non-commercial catch has also

declined

in recent years.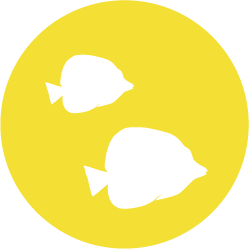 All reef fish indicators (e.g., total fish biomass and fish abundance) were

higher

in

Marine Protected Areas

compared with fished areas, suggesting a benefit of fisheries management on coral reef fish communities in protected areas.
---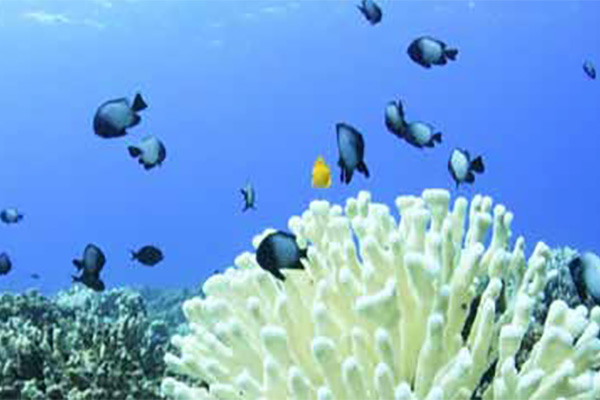 In 2015 the ocean was hot. Sea surface temperatures reached 2.5°C (4.5°F) above typical summertime temperatures and resulted in the first widespread coral bleaching event in West Hawai'i. The overall severity of bleaching, or the percentage of corals bleached at a given location, ranged from 30–80% with some geographic areas exhibiting upwards of 90% coral bleaching. Coral bleaching does not necessarily result in coral mortality; however, local human pressures such as excess nutrient input and removal of herbivores fishes can imped their ability to recover. Effective management strategies that mitigate human-related pressures can promote coral recovery and increase the resiliency of corals to future coral bleaching events.
Many other indicators tell the full story of why 2015 was so hot. 
---
Making the First Ecosystem Status Report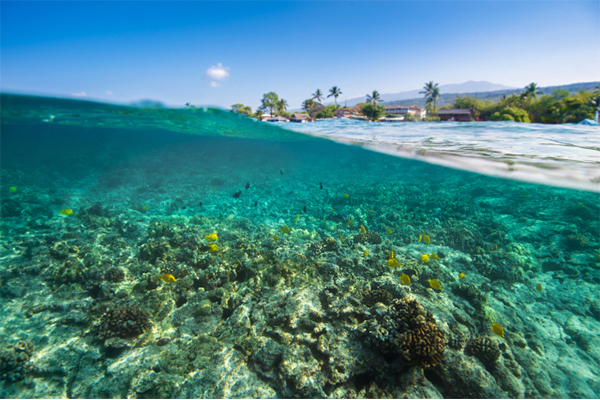 The ocean off the west coast of Hawai'i Island is home to an especially vibrant marine ecosystem. This coastal region is teeming with bright fish, sea urchins and shellfish, green sea turtles, spinner dolphins, whales, manta rays, and coral reefs. West Hawai'i has the largest expanse of intact and actively growing coral reef in all of the main Hawaiian Islands [1]. This wide array of flora and fauna makes West Hawai'i incredibly important for marine biodiversity but also particularly vulnerable to the pressures of an increasing human population, coastal development, fishing, pollution, and climate change.
---